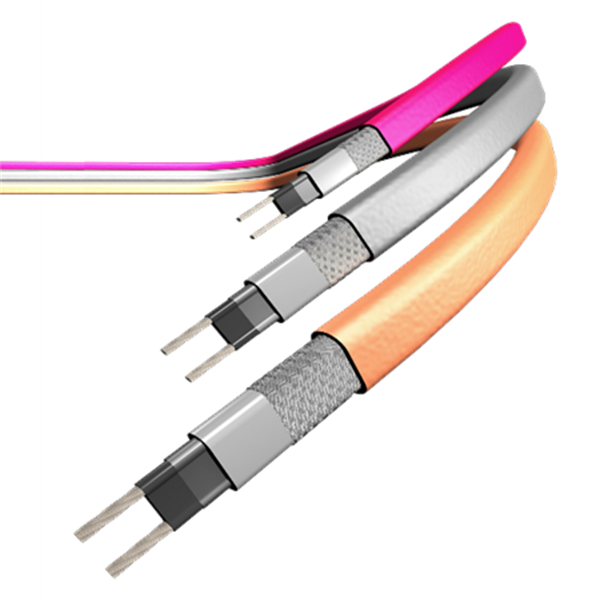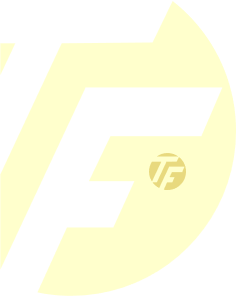 Trace Heating




Frost Protection
Falling temperatures can pose real challenges for both rigid and flexible pipework and once the ambient levels reach near or below freezing can cause extensive damage and potential failures of the lines, valves and other process equipment.
While insulation and jackets reduce the risks the addition of a frost protection heating cable can offer further peace of mind and help to ensure that the process continues to function as expected.

Commonly used in external or exposed areas it can also be of benefit in larger buildings or plant rooms where temperatures may still fall to low levels.
Our most popular cable for this type of installation is our TraceJ 10W p/m self regulating cable combined with our standard Air triggered thermostat for automated operation at your desired temperature.

The self regulating element reduces risk should the cable become overlapped as the output will be restricted.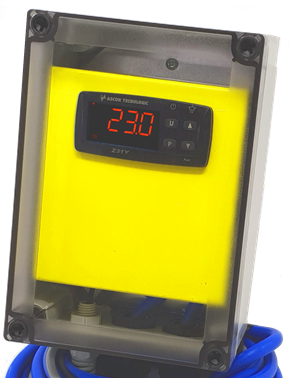 Temperature Maintenance
For some processes maintaining the media within a set temperature band is critical to achieving the correct flows or other operational parameters and for these situations we offer a range of higher wattage cables.

When looking at solutions here elements such as the starting temperature, pipe size, length and route of the run concerned as well as the appropriate insulation materials and thicknesses all need to be established.

Output levels for these cables would normally be from 20W p/m or above with specialist options specifically desigined for internal hot water systems and further for process temperature requirements where outputs from our HT range can reach 60W p/m.

Digital thermostats with options such as a remote temperature sensor and BMS feedback are all available along with higher loading units and connection box's.

General Specifications
Our range of trace heating cables are multilayered with a copper core and an outer made of a modified polyolefin jacket which has good overall environmental resistance. Standard operating range is from a min of -40c to a maximum of +85c and comes as 230v with a 110v option available.
We offer a range of accessories including termination kits and mounting brackets for your chosen thermostat along with a TraceJ L variant of the cable which is a larger format version that adds to the maximum single lengths achievable.

The table below summarises some of the key information for the range.
Popular Sizes
| Range | Description | Output Per Mtr | Dimensions | Max. Length (Amps) |
| --- | --- | --- | --- | --- |
| TRAC | Eco Trace 10 | 10W | 8.6mm x 5.7mm | 123/128m (10/16) |
| TRAC | Eco Trace 15 | 17W | 8.6mm x 5.7mm | 85/102m (10/16) |
| TRAC | Trace J10M | 10W | 10.9mm x 6mm | 178/190m (16/20) |
| TRAC | Trace J16M | 16W | 10.9mm x 6mm | 143/167m (16/20) |
| TRAC | Trace J20M | 24W | 10.9mm x 6mm | 124/140m (16/20) |
| TRAC | Trace J30M | 30W | 10.9mm x 6mm | 102/130m (20/30) |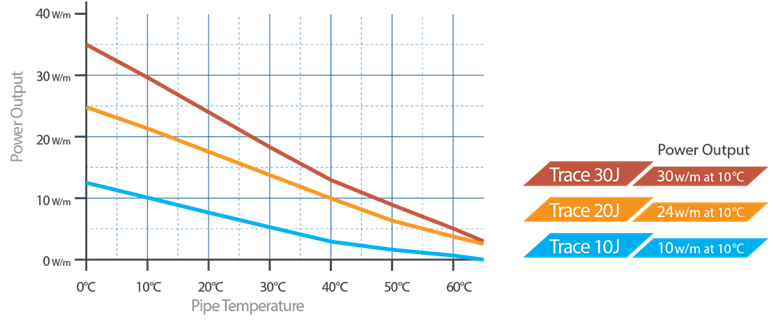 ** all data is for illustration only based on manufacturers data which is subject to their tolerances and change without notice.